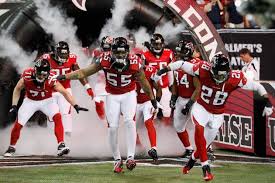 Last season, the Falcons went 6-10 even though they almost won the NFC South. Coach Dan Quinn joined the squad, and many PPH bookie services believe that a new era for the team is about to start.
The team is not thinking about using CB Jalen Collins as a backup player, as he's talented enough to start for the Falcons at once. He'll probably start instead of Robert Alford, who performs best as a nickel corner. Collins shouldn't have any problems exceeding expectations in defense, but there are some concerns, as he did not have much experience as a starter while playing at LSU. Collins and Desmond Trufant will turn out to be one of the most dangerous CB combinations in the league.
Tevin Coleman could very well start Week 1 as a rookie, and he's able to make a very big impact with the Falcons. The player shouldn't have any problems rushing for 800 yards or more, and many fans wonder how far he'll make it. Coleman will play a very important role in Atlanta's passing game, and could record more than 1,000 yards in his season as a rookie.
Before working on their running game, the Falcons could have turned into a team with one of the NFL's best passing offenses, which could do a great job with WR's Roddy White and Julio Jones back in action. However, they now have even more ammunition, as Leonard Hankerson, Jacob Tamme, and Justin Hardy joined the Falcons in the offseason. These recent additions and a better running game should see the team feature in the league's best offenses.
Vic Beasley will start at LB, and the player should excel in that position. Many in the NFL believe that his campaign as a rookie will be a great one, as the player is very athletic and agile on the field, notching sacks in the double digits, and becoming a key piece in the lineup. The player could have a huge impact on the team's defensive ranks, and many fans can't wait to see him do just that.
PPH bookie services are confident that the Falcons will make it far this upcoming season, especially now that Dan Quinn is leading the team. There's not much strength in their division, and they can outperform the Panthers and Buccaneers. Their main divisional challengers could be the Saints, but Drew Brees seems to be going downhill, something that will give Atlanta an edge in the division. All in all, the Falcons' offense and better defense should turn the team into serious contenders for the playoffs.