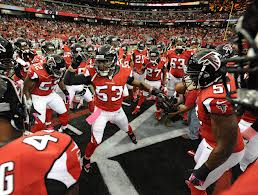 On Sunday, the Ravens will do everything they can to win six consecutive games against teams in the NFC South when they take on the Falcons. Local bookies can see that Baltimore are 4-1 ATS and 5-0 SU in the team's last five meetings with opponents in the NFC after they pounded the Buccaneers 48-17 last week as the three point favorites on the road.
Many sportsbooks opened Baltimore's betting line with the team as the favorites by six points, and early this week 49.5 was the total.
Atlanta's offense improved considerably in comparison to the one that they had when they lost their last three meetings both ATS and SU, gradually scoring less since Thursday night of Week 3, when they demolished Tampa Bay 56-14. The team's victory over the Buccaneers was able to show the big threat that the Falcons' offense pose when QB Matt Ryan and his receivers can properly connect.
Fans of the Falcons were very concerned when they saw that the team was only able to score one TD at home when they were beaten by the Bears 27-13 as the favorites by three points. Many local bookies believe that the Falcons can definitely do a much better job this time around than in their last three encounters, and on the road they shouldn't be a TD dog.
The Ravens made it to 4-1 ATS in their last five meetings when they took on opponents in the NFC South after their game last Sunday, when they destroyed the Buccaneers. For Baltimore, QB Joe Flacco threw five passes for TD's at Tampa Bay during the first half, and these include four made in the game's first quarter. After that, things got much easier for the team.
The very talented Flacco will now take on an Atlanta secondary that last week gave up a total of 381 passing yards to the Bears' Jay Cutler, which happens to be a season high. The defense that the Falcons have also gave up a 33 points-per-game average when they lost three games in a row.