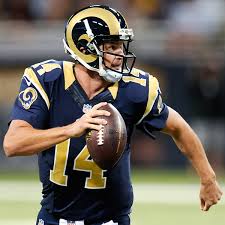 On Saturday, Shaun Hill lasted half an hour on the game between the St. Louis Rams and the Minnesota Vikings before the quarterback was replaced by Austin Davis. Sports software services could see that this proved to be a very strange turn of events because in the last few weeks, coach Jeff Fisher said many times that he felt confident about Hill – a player who was thought to be one of the best backups in the league.
But apparently the 34-year-old's performance did not have anything to do with the change made. St. Louis was behind Minnesota 13-0, but when the game reached the half, Hill was 8 out of 13 for 81 yards, without a single touchdown and a pick, and a very unfortunate quad injury that he suffered in the second quarter. Now it is not really known when the veteran player will return to the team's lineup.
"Shaun was uncomfortable the second-to-last drive [of the first half]," said Fisher. "At halftime, we decided it would not be a good idea for him to return. He has a quad strain. I'll know more information on it tomorrow."
Now the immediate future of the player is uncertain, and Sam Bradford won't be playing for the team this season, which is another reason for the fans to be concerned. Davis was not able to score any touchdowns, had one interception, and was 16 out of 23 for 192 yards, but in the second half the player was able to lead St. Louis to six points – 28 away from of what Minnesota was able to make, so many fans saw some promise.
Sports software services know that a single game obviously does not define what a team's season is going to look like, but the Rams appeared to be very absent in their ga