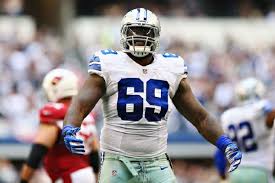 It's the end of the season for Henry Melton, and price per head agents believe that the time that he spent with the Cowboys probably ended as well.
On Tuesday, Dallas put the DT on the IR list after his right knee suffered a bruised bone, and LB James Anderson signed with the team. When was a free agent, Melton signed a deal of year with Dallas with an option of three years. The player sustained the injury in the Cowboys' last game of the season, when they took on the Redskins. Melton recorded 10 tackles and 5 sacks when he ended the year.
The DT featured in 9 games in which he wasn't credited with a tackle.
If Dallas make the decision to get the player's option, he's set to have $9 million guaranteed in 2015.
"I can't think about that," said the DT before Dallas made the announcement that he would go to the IR list. "I love it here in Dallas, love the fans, love everything. So right now we're just working for this playoff push and take it one day at a time."
The player's absence was expected to be a lengthy one, and the Cowboys thought that the team needed to have a spot in the team's roster. The DT played with the Titans for seven meetings before he signed on November 20 with the Falcons. He didn't play in a meeting before being released on the 24th of December. He started playing for the Bears in 16 meetings in 2013, and was able to record 102 tackles and four sacks, which is a high in his career.
The player joined the ranks of Dallas after having missed all meetings except for three last year with Chicago due to a tear of an ACL suffered in his left knee. Price per head agents saw that he was able to record five sacks in the initial nine matches, but in the last seven meetings he was not able to get to the QB.
"Personally I didn't get it exactly where I wanted to get it," said Melton. "It was rough coming back and I think one of the major factors was I had to get back into playing shape. But it is what it is … a lot of people told me about it's going to take one step to actually feel confident in it and there's another step where you've got to be able to go play and breathe and be able to run on it."
Call us Toll Free at 1-866-CALL-IDS (1-866-225-5437) or Click here to start your FREE Price Per Head Trial today!