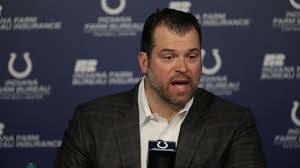 On Friday, Colts GM Ryan Grigson wouldn't promise that RB Trent Richardson would return next season to the team, and pay per head services wouldn't be surprised if he doesn't.
In an interview session, Grigson said that the RB will be "lumped into that conversation with guys this offseason."
"Where's he fit? Where's he going? Is his arrow up, down, sideways, 45-degree angle?" said the GM.
"And we have to figure all these things out with guys in all different types of situations on this roster. There are guys across the board that are in a lot of different situations. But, again, when the coaches come back, when we seeing what's actually out there — we have an idea, draft, juniors that have declared and things like that — once that evolves we'll have a much better feel for what we need to do."
For Richardson, things went from bad to worse when the player was not active in the divisional playoff meeting with the Broncos on the 11th of January, and the player received a 2-game suspension after he didn't show up to a walk-through on the 17th of January. The RB said that he didn't attend the walk-through because of a family emergency that proved to be very serious, and that he wouldn't deliberately miss it.
The RB served his suspension's first game when the Colts played the championship game of the AFC against the Patriots, and if he returns, next season he'll be serving the second suspended game at the discretion of the team, according to sources, as they didn't go to the Super Bowl.
In September of 2013, Indianapolis surrendered to the Browns a first-round draft pick so they could acquire Richardson's services, as they looked forward to pair the player with QB Andrew Luck the following years. In the draft of 2012, Luck had first place in the overall pick, and third place went to Richardson.
However, Richardson was very disappointing, and the fans were not pleased at all.
Late in the season of 2013, the player lost his role as a starter to RB Donald Brown. Pay per head services saw that this season he got it back, but in Week 16 he lost it again, and this time it was to RB Daniel Herron. Richardson was the third RB in the Colts' playoff game against the Bengals on the 4th of January. In the game against Cincinnati, Richardson played just one snap.
With Indianapolis, Richardson still wasn't able to rush for 100 yards in a meeting, and in 29 matchups he only had a total of 977 yards.