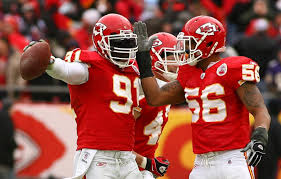 After the Denver Broncos' bad performance last season at the Super Bowl against the Seattle Seahawks, John Elway, the team's general manager, wanted them to improve their defense, something that IDSca agents believe was key for their recent success.
The Broncos' legend could have decided right, considering the team's performance on Week 1. Denver's defense was able to intercept Andrew Luck two times, sack the player three times, and keep a very angry comeback by the Indianapolis Colts at bay, winning the game 31-24.
For Denver, the game started very well as three TD passes were thrown by the very-famous Peyton Manning directly to tight end Julius Thomas, helping the team make it 24-0 in a first half
But their offense was having problems as Denver weren't able to convert on third downs, and in the second half they went 1 for 7. Due to that, Indianapolis, who were led by QB Andrew Luck, started to dominate, and with 2:58 remaining in the game they could have tied it.
But Denver's defense did not yield, as rookie Bradley Roby was able to break a fourth-and-6 pass by Luck to Reggie Wayne, giving the Broncos a win. Even though the team allowed 408 offensive yards to Indianapolis, on third down conversions the Broncos held the Colts to 4-of-13.
However, on Sunday the team could be up for a big fight when they face the Kansas City Chiefs, as RB Jamaal Charles wants to make a comeback from the mediocre display that he made on his team's opener. Denver believe that they can stop the player, especially after the way that they were able to thwart in Week 1 Indianapolis' running game.
The Broncos had the Colts limited to just 54 rushing yards, and if they're able to do the same in Week 2 when they take on Kansas City's running attack, they can clinch their season's second win.
It obviously also helps if you have the services of Peyton Manning, and with the QB connecting with Julius Thomas so early this season, Denver have a real opportunity of showing up again in a Super Bowl this time around.
The Broncos are now 8-2 in their last 10 home games back to September 29 in 2013. They're also 8-2 in their last 10 games played at home against Kansas City going back to 2004.
The Chiefs were having problems on both ends when they were defeated by the Tennessee Titans 26-10.
The Chiefs' QB Alex Smith, who had a recent extension to his contract worth $68 million, was looking a bit lost as he was only able to complete 19 out of 35 passes for 202 yards, and the team's offense was seriously affected by key players' suspensions.
With the suspensions of Donald Stephenson, right tackle, and Dwayne Bowe, leading wide receiver, Kansas City saw that it was very hard to create an offense. The team's offense was so terrible that they were not able to make it to the end zone until a TD scored in the fourth quarter by Anthony Fasano.
And to complicate things even futher, Jamaal Charles, the team's super running back, did not seem to be a factor at all in the game.
Besides their deficiencies on offense, the Chiefs' defense also seemed troubled. With starting Mike DeVito and Derrick Johnson out of the game due to injuries suffered on their Achilles, Kansas City had trouble trying to stop QB Jake Locker. For Locker, the game finished with two TD's and 22-for-33 for 266 yards.
In Week 2, things will probably not get much easier for the Chiefs when they take on tPeyton Manning – one of the best QB's in the history of the NFL – who was able to score three touchdowns and complete 22 out of 36 passes for 259 yards in what was a great debut against Indianapolis this year.
But price per head agents believe that there are some very good news for Kansas City as they move into their showdown against Denver. Bowe is set to go back to the team's starting lineup after the player was suspended for one game, and he will be the one to give the opening that QB Alex Smith didn't have when the team took on Tennessee.
Last season, 57 passes were caught by Bowe for 673 receiving yards, and the player should give Kansas City a very big boost.
Related Read:
Live Betting: Wes Welker still questionable for the Broncos
Wes Welker believes that the NFL is flawed in its drug testing process