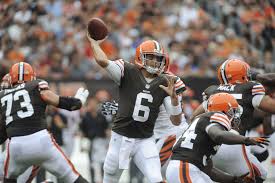 After the Browns were able to push the Steelers to the edge in Week 1, Live betting fans saw that they made proper use of their potential on the field when they took on the Saints on Week 2, giving New Orleans and Drew Brees a huge upset with a thriller at the fourth quarter that ended with Cleveland winning the game 26-24.
Everybody seemed to forget all about Brian Hoyer's controversy in the preseason regarding which player would start for Cleveland at QB. Even though Johnny Manziel did play in Week 2 for a very brief period of time, which ended up being pretty insignificant, Hoyer once again made the headlines with 204 yards on 24-for-40 passing and a TD.
The Browns were playing without the services of starting running back Ben Tate, receiver Josh Gordon, and elite tight end Jordan Cameron, but Hoyer made an 85-yard drive in the game's last seconds, setting up the field goal by Billy Cundiff that won the game.
In Week 3, Hoyer must keep his top level when the team takes on Baltimore, so Cleveland can keep their good start to the regular season against the Ravens' defense, which in Week 2 was able to hold Ben Roethlisberger and friends to 202 passing yards. The player would like to continue a rushing attack that did not suffer in the absence of Tate, with a 152.5-yards average per game, and scoring three TD's in two meetings.
Terrance West proved to be the player who the fans expected to see, and he became the very first back to record 90 or more total yards in his first two meetings as a professional player since 2008, when Chris Johnson and Matt Forte did it. This season, a rushing TD was still not allowed by Baltimore.
Many fans saw that in the middle of one of the nastiest scandals in an NFL history that is already full of them, Baltimore did a very good job on the field in Week 2 when they took out Pittsburgh 26-6.
A great comeback from a bad Week 1 was made by Joe Flacco, as the player was able to throw two TD's in his team's win. When the game was over, the player got a 72.4% completion percentage since last season's start. In the game, Flacco completed 21 passes for five or less yards.
In Week 3, Baltimore's running game must be kept up. As Ray Rice is indefinitely suspended due to the assault charges that he's currently facing, Justin Forsett and Bernard Pierce took the player's duties and performed very well, respectively rushing for 126 yards on 19 carries and 113 yards on 28 carries in two games.
So far this season, Cleveland's run defense appeared to be pretty beatable, only allowing three scores in two games, 150.5 yards per game, and 5.4 yards per carry. Many Live betting fans believe that if Forsett and Pierce are able to locate the holes when this game gets underway, Flacco will have everything needed to prevail.
The Ravens looked very well defensively, and could slow down an intense rushing attack by Cleveland. So far, Baltimore only allowed 89 yards a game on the ground, without any TD's.