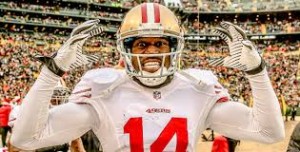 Veteran Kassim Osgood lost his job during the weekend, but he had no problems with this at all. Local bookies know that the wide receiver has been in the game for a while already, and he probably has a pretty good idea about what business is like in the NFL.
On Monday, the San Francisco 49ers signed Osgood when the team released running back LaMichael James.
On Saturday, Osgood was released by the 49ers so tackle Alex Boone could get a spot in the team, as after a lengthy holdout, his contract was changed.
"The NFL has strict guidelines and you have to work within the rules to keep continuity," said the player.
"It's for the team and when you can get veterans to come back, it's good for the team."
Other teams gave the player's agent a few offers, but the player didn't even want to see what was being offered.
"I was stuck on coming back here," he said. "My agent told me to focus on what I needed to do to go back to the 49ers. I always keep the line of communication."
The player was not able to start in a game in three years, and he will enter the 49ers' clash against the Bears on Sunday with 45 receptions made in his career – one of them was made last year with the 49ers. The player still believes that he's been blessed.
"I went undrafted, so every year is a bonus," he said. "I'm still around and I'm still having fun."
Coach Jim Harbaugh was impressed by Osgood's special teams play, something that the coach always thought was very important since he was coaching at college.
"It's always fun to go out there and compete against anybody," he said. "It's fun to show off my skills."
Osgood had no choice but to watch the team on TV take out the Cowboys, but he felt like he was a part of the 49ers.
"There is a ton talent on this team," the player said. "I was happy to see them go out and execute."
The team only have the services of Carlos Hyde and Frank Gore as the listed running backs, which could mean that the 49ers could make another move later on.
Local bookies saw that on Sunday, their secondary also took a blow in the first quarter when cornerback Chris Culliver had to leave the game due to a concussion. Tramaine Brock – another cornerback – also pulled out after an injury to the toe.
"Unfortunately, we lost both our starting cornerbacks," Eric Reid said. "We just knew we had to make sure we were all on the same page. If I read pass, I dropped back to find where help was needed."
Dontae Johnson and Antoine Bethea helped make up for the losses.
"I was nervous in my first game and I knew Dontae would be nervous," he said. "I just told him to play and let his talent take over. That's why he made the team. He did a good job."
Brock could not play on Sunday, and Culliver wasn't cleared to participate in practice.