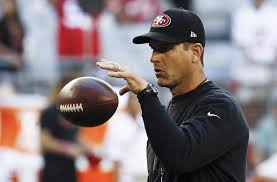 For the first time in Jim Harbaugh's tenure as coach, the 49ers are the two-digit underdogs, something that is not going down very well with the fans and many internet bookmakers.
On Tuesday, a limit bet of $30,000 was placed on the Seahawks, and the MGM sportsbook had no choice but to raise the spread for the game against the 49ers on Sunday. Now Seattle are the favorites by 10 points over San Francisco – their rivals in the NFC West.
On Tuesday, sportsbooks all over Las Vegas and abroad also had Seattle as the favorites by 10 points over San Francisco. And considering how things are going, the spread could go up even more.
At the MGM, five times more wagers were made on Seattle as of Tuesday. The money bet on the game was even a bit more, due to a $20,000 bet on San Francisco – a wager that a "tourist" made, according to Jeff Stoneback, assistant manager at MGM.
"There's already a lot of teaser and parlay money connected to the Seahawks," said Stoneback. "It's a little unusual to have this kind of (lopsided) action this early in the week, especially when you're dealing with two marquee teams. But I guess the 49ers aren't marquee anymore, when you lose to the Raiders."
On Sunday afternoon, The Westgate Las Vegas SuperBook had Seattle as the favorites by 7.5 points over San Francisco.
However, that took place before the 49ers ended up losing to the Raiders 24-13 as the favorites by 8.5 points and before the Seahawks beat the Eagles 24-14. The SuperBook adjusted the lines and turned the Seahawks into the favorites by 9.5 points after those meetings. On Tuesday, the SuperBook moved the line to -10.
The 49ers lost two consecutive games when they were beaten by the Raiders, fell to 5-8 ATS this season, and now internet bookmakers can see that there is more doubt surrounding coach Harbaugh's future with the team.
In the first season that Harbaugh had with the 49ers, they were the dogs with 9.5 points in a game that took place on October 2, 2011 against the Eagles. The meeting on Sunday will prove to be the 15th overall time that San Francisco were the dogs with Harbaugh as coach. In those meetings, they are 8-5-2 ATS.
The Seahawks were able to cover the last seven times that they took on San Francisco. At the SuperBook, the odds for them to be the winners of the Super Bowl fell to 100-1.