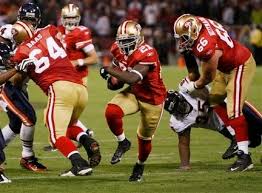 The 49ers' fans believe that the team should not have much trouble when they take on the Bears in Week 2 at Levis Stadium. San Francisco are currently the favorites to win the game, and by 7.5 points. Many fans saw that the line opened at 7, and it didn't take very long at all for it to move half a point up. They also saw that at some sites, the odds opened at 6.5, but 7.5 points is what the team is generally getting right now.
The Bears' fans were disappointed when they saw that their team got quite a punishment at the hands of the Bills at home. Chicago entered the showdown being the close favorites when they entered the game against Buffalo, and then for most of the clash their fans were not very happy to see them have such a tough time on the field. They ended up falling 17-7 behind, and had to have a field by Robbie Gould with only 30 seconds remaining so they could enter overtime.
The team were then beaten in overtime when Buffalo scored a field goal. Jay Cutler did put up with some pretty big yards, but also made some very bad mistakes that didn't help the Bears' cause in any way.
When they took on the Dallas Cowboys, San Fransisco was able to cover the 4.5-point spread, and this was mostly due to the team getting a lead of 28-3. The 49ers had a defense that seemed to be pretty solid for some moments, but at other times they also gave up some very important plays. IDSca.com agents don't really see this as a shock, considering the early lead and the secondary's injuries.
Now, many fans would like to see what will happen when the 49ers go face-to-face with the Bears, and yes, they're clearly the favorites to win the game, but only time will tell if they will be the ones to come out on top – many fans out there believe that the Bears could pull off a big surprise when these teams face each other, but that yet remains to be seen.
More News about the San Francisco 49er's:
The San Francisco 49ers will impress this season