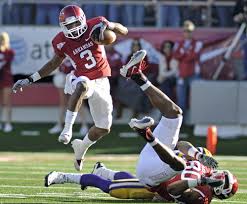 Arkansas was able to move past their loss to Auburn in the team's season opener, and many football betting fans were impressed when they saw the team clinch three wins in a row, which include last Saturday's 52-14 demolition of Northern Illinois.
In their last three games, the Razorbacks are 3-0 ATS and straight up. A 48.8 PPG – which is ranked third – was also able to keep the total on the over in their four games this season so far.
This season, the Razorbacks' rushing offense was able to lead the way for the team. In the FBS, Arkansas is ranked at 8th place with 324.50 rushing yards made per game, and they have an average 47.3 rushing attempts. The main piece in Arkansas' very destructive rushing attack is Alex Collins, who in the SEC has a second placed ranking, right behind Todd Gurley of Georgia, who has 122.50 rushing yards made per game as well as five TD's. Texas A&M's defense must find a way to hinder the Razorbacks' backfield and force Arkansas to move to its unimpressive passing game, which ranks only 114th in the FBS with 160.0 yards per game.
But on Saturday, Collins will not be the only targeted player when Arkansas go to Arlington. In four games, Jonathan Williams was able to record seven rushing TDs. Korliss Marshall also had some very good moments.
Regarding their defense, Arkansas showed plenty of style in their last two meetings, especially in their season's nicest win so far, when they took out Texas Tech at 49-28 – held down to only 353 total yards by the Razorbacks.
The Texas A&M Aggies, with a powerful defense and very efficient offense, pounded SMU and gave them a very humiliating 58-6 defeat as the 35-point away favorites in Week 4. The Aggies' win saw the team's record go up to 4-0. Texas A&M are also 3-1 ATS in all of their wins so far this season.
Texas A&M have an explosive offense with a ranking of second place in the country, with a 55.3 PPG average. However, it is the way that their defense performed – their linebackers in particular – that could see them win on Saturday yet again.
The Aggies' defense should figure out a way to hinder Arkansas' backfield, which will give the Razorbacks no choice but to resort to their passing game, which many live betting fans know is not at all extraordinary, with 160.0 yards made per game and a 114th FBS ranking.
When it comes to their offense, Texas A&M could prove to be a massive threat for the Razorbacks' secondary. With QB Kenny Hill leading, the Aggies have 405.0 yards passing yards made per game, and a fourth-placed national ranking.
Many experts believe that the Aggies will be the ones to win the game, but that is yet to be seen.
More College Football Week 5 games information:
Live Betting: Arizona State could give UCLA their first loss of the season
Michigan State vs. Wyoming Week 5 game analysis