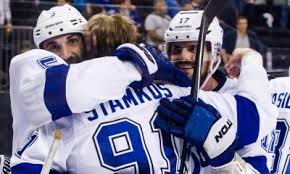 The Tampa Bay Lightning handed the New York rangers their first Game 7 loss at Madison Square Garden. Online Bookmaking Solutions has the Lightning at 5/4 to lift the cup. They will face either Chicago Blackhawks or the Anaheim Ducks in the finals. Bookmakers solutions hold the Blackhawks at 9/4 and the Duck at 11/5.
Bishop did a great job after being pulled in Game 6 after allowing 5 goals. "I felt pretty confident in this building," said Bishop, who sure looked it after being so shaky Tuesday night. "We've done well against them all year. I was just looking forward to getting out there again."
The Lightning last won the Cup in 2004 in the 7th Game against Calgary "For whatever reason, that was probably the most calm Game 7 I've ever been a part of," Lightning captain Steven Stamkos said. "And not just for me, but on the bench. Going into the third, we were just loose.
"We knew we were playing the game the right way, we knew were going to get one."
The Rangers had NHL's best record this season at 15-3 in the past 18 elimination games. "It's painful," Lundqvist said. "Getting to this point is extremely tough. I've been [in the Eastern Conference finals] three times. I like the consistency, I like what we're doing as a group. There are a lot of good teams out there … in the end, you need a good team but you also need a process."
Everyone was elated for Bishop as they stormed off the bench to mob him. The crowd chanted "Hen-rik!" as both teams lined up to shake hands. Bishop protected the slim margin after Killorn's 7th goal. "The team has played so well in (its) last two Game 7s and we haven't given up much," Bishop said.
Palat then finished it off with his 7th goal of the playoffs, it was a wrist shot over Lundqvist' glove. The assists came from Tyler Johnson. The Lightning earned the Prince of Wales Trophy for winning the East and have their sights set on the Stanley Cup.
The finals are set to begin on Wednesday night. The Rangers had a valiant effort "Like I said in the playoffs, we're a growing team," said defenseman Anton Stralman, a Ranger last season. "We're not at our best yet."
New York Rangers last won the title in 1994.