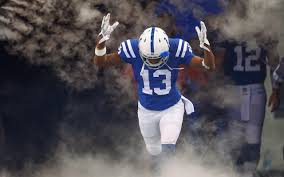 The Indianapolis Colts and T.Y. Hilton have agreed to a contract extension on Thursday. The deal agreed to is for $65 million, $39 million which is guaranteed and this was confirmed by his agent Drew Rosenhaus. The Colts which are 8/1 to win the Superbowl at pay per head sportsbook made a very smart move by locking up Hilton long term.
"[The Colts] showed interest that they wanted me and I also wanted to be here," Hilton said Thursday. "There's no place I rather be than here. This organization is great. I love being here.
"I didn't want to go into the season with it on my mind. I'm ready to play. [Go] to practice and give it my all."
Hilton is coming off a Pro Bowl season as he posted 82 receptions for 1,345 yards last season. According to ESPN Stats & Information, Hilton has 17 receptions for at least 40 yards since 2012. That's good for third most in the NFL behind DeSean Jackson (23) and A.J. Green (19).
"It's a great day for the Indianapolis Colts, T.Y. Hilton and his family," Colts general manager Ryan Grigson said in a statement. "We're extremely happy as an organization to ensure that T.Y. will continue to be a part of our journey for many years to come. His daily excellence on and off the field is a shining example of an individual striving for greatness and what it truly means to be a Colt."
The first game of the season will be on the road against the Buffalo Bills. PPH Bookie Service has the Colts a 2.5 favorite with total 46. They have been already part of Deflategate which will add to the legend of Luck and the Colts if they do become a powerhouse. I believe in the Colts system and they found the perfect heir apparent to Payton Manning.
They have also added Fran Gore through free agency and he will bring toughness and expertise at a position the Colts have had trouble securing since Edgerrin James. The Colts system is magnific and have talented position players will go a long way to become contenders for a very long time.
Coach Pagano knows what buttons to push and he seems to have the respect of his players that is also important for the journey they will be taking.