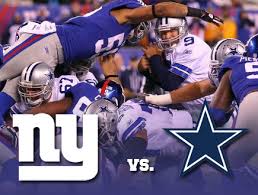 The Cowboys just had their week off, and live betting services can't wait to see how they do when they take on the Giants on the road on Sunday night in a game of the NFC East. This season, Dallas are currently 4-0 in road meetings, and were able to win their last three games SU and ATS when they faced the Giants, who will look to stop a losing streak of five games.
The betting line opened with the Cowboys being the favorites by 2.5 points, and 47 was the total.
The Cowboys were able to get some necessary rest in their bye week after they paid a visit to London, where they were able to easily take out the Jaguars in a win of 31-17 as the favorites by seven points. Of that victory, the most important part was how Dallas QB Tony Romo was performing after a back injury set him back and he ended up missing their last meeting.
The player was performing like he used to, and against Jacksonville he was able to complete 20 out of 27 passes for 246 yards and three TD's, which include two sent to WR Dez Bryant. The Cowboys are an amazing 8-0 ATS in the last eight games that they played on the road following a week off.
Last week, the Giants did not do a very good job at all on the field, but there were still a lot of chances that the team had to not only cover but also win. New York lost 16-10 to the 49ers with five interceptions thrown by QB Eli Manning. When the player was picked off, they were able to drive for scores on many occasions and still had a chance to do so until the game ended.
Right now, it looks like the Cowboys will be the ones to win this meeting, but many fans and live betting services know that anything can happen in this game, as it looks like an easyone for Dallas.
7-2 is the over in the Cowboys' last nine meetings after a week off, as well as 6-2 in the last eight games played by the Giants as the dogs at home. The over was also profitable in nine out of the last 11 games played between both sides, which include each one of their last four matchups. Many live betting services believe that bettors should go for the over in this game.