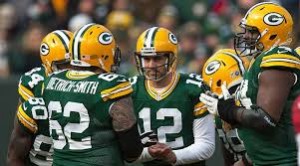 The Packers and Bears, historic rivals, will face each other on Sunday night at Lambeau Field, in game that live betting services believe should be a real battle. These teams from the NFC North will be back in action after their weeks off. Recently, Green Bay were the ones who were able to dominate against Chicago, with 10 out of their 12 games won SU, and they went 9-3 ATS.
The betting line opened with the Packers being the favorites by 7.5 points. The total opened at 53.
The Bears had very bad start at 3-5, but still had some good moments during the first half of the season. Wins on the road against the 49ers and Jets are among the best things that Chicago can focus on right now, and they might try to build on what they accomplished then in the season's second half. They will have to do this when they take on the Packers, as this could prove to be a very difficult game in the division.
At times, Chicago's offense did prove their worth, but they still have to figure out how to do this for an entire game. Marc Trestman, the Bears' head coach, will probably try to do away with the memory of the game against the Patriots and help the team concentrate on taking out Green Bay, which could be something that could help them change their season and give the players the necessary confidence to have a less demanding schedule.
The Packers were at the top of QB Jay Cutler since the player ended up being traded to the Bears. Now, Green Bay have no choice but to keep on doing what turned them into a successful team. It's important to note that last season, the player was out due to an injury, when the Bears clinched a win at Lambeau Field. Josh McCown replaced him, and the Packers' one-and-only Aaron Rodgers suffered a broken collarbone early during the game – with Seneca Wallace taking his place, and he was not very effective at all.
Green Bay know very well how Cutler must be defended – much more than any other NFL team, and this is proven by the record that they have against the player. The Packers are 10-1 against Cutler, and the QB must prove them different, or they will end up being owned by Green Bay.
NFL fans and live betting services can see that the odds clearly favor Green Bay, and believe that they should have no trouble taking out the Bears.