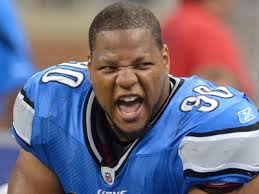 Ndamukong Suh and the Lions were told that their DT won't be able to feature in the team's wild-card meeting with the Cowboys on Sunday, something that pay per head agents believe could seriously set them back.
The player's suspension is coming one day after he stepped on Packers QB Aaron Rodgers' leg, in an incident that was very controversial.
The DT "unnecessarily stepped on [the] opponent's unprotected leg as he lay on the ground unable to protect himself," according to an NFL statement.
The suspension is being appealed by the player, and Ted Cottrell will hear the appeal.
Detroit center Dominic Raiola, who on Monday went back to action from being banned for one game, defended what Suh did on the field.
"He was getting pushed back, you know," said Raiola. "… There's no way at that point in the game that he did something like that on purpose."
James Ihedigbo, Detroit safety, said that a big empty spot will be created on defense with Suh gone.
"I don't know if you can put it into words," said Ihedigbo. "He's a dominant force in our defense. He's kind of the key centerpiece. We have faith in guys that can step up and fill that void and do the best job they can to get this win and help us out.
"It's unfortunate, whatever way you want to slice it. You're losing one of your best defensive players and one of the best D-linemen in the league, it's unfortunate."
If the player's appeal ends up being denied, the Lions won't have both of their first-round DT choices. On Monday, Lions coach Jim Caldwell said that only "a miracle" would let DT Nick Fairley feature against Dallas. Fairley did not play or practice since he was injured in Week 8 in the game against the Falcons.
If Fairley or Suh aren't available for action, Detroit will most likely start Andre Fluellen and C.J. Mosley or Jason Jones at the DT positions.
This won't be the first occasion that the DT had problems with the Packers. Pay per head agents remember when in 2011, he received a two-game suspension after he stomped on the arm of Evan Dietrich-Smith, who was a center for the Packers then. Last season, Suh was also given a $100,000 fine due to a low block made on John Sullivan, Vikings center.
The player got fines after he roughed up the Bears' Jay Cutler, the Bengals' Dalton, ex-Bengals QB's Brandon Weeden and Jake Delhomme, and ex-Texans QB Matt Schaub.
If the DT is banned from action on Sunday and the Lions end up losing the game, it could mean that the he'll stop playing for the team, as at the end of the season he'll join the free agency market.