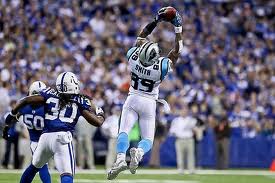 On Sunday, WR Steve Smith's fans were truly impressed with the punishment that the player gave the Carolina Panthers, his former team. Local bookies were also taken aback when they saw that the player made seven catches for 139 yards with two TD's scored, and the Panthers were ultimately beaten 38-10 by the Ravens.
The receiver who's very famous in the football world for his skills on the field had a very nice day on Sunday when he took on Carolina, with two catches for TD's made against his former team, and now many NFL fans are wondering if the Panthers have any regrets about releasing the player from their ranks.
A 35-year-old Smith played for the Panthers for 13 seasons, but then many of the team's fans were very surprised when they found out that he was let go during the offseason in what was reportedly a move to reduce their expenses, and this proved to be very controversial. The player showed Carolina that he's still got it, and can still make some very big plays. In the second quarter he scored two times, helping the Ravens, who are 3-1, make it at halftime to 21-7, leaving the football world amazed.
The first TD was made when the player clutched a pass that bounced off Owen Daniels. The ball was then caught by Smith while the player was on the move, and he took it straight to the end zone so he could complete a play of 61 yards.
The WR was also able to score for 21 yards out, and this came along with a diving reception.
22 out of 31 for 327 yards and three TD's were made by Joe Flacco, and the other one was a 24-yarder that went to Torrey Smith.
The Panthers, who are currently 2-2, ended up losing two games in a row. Local bookies saw that both of their losses were made in a completely uneven manner against rivals in the AFC North, and now local bookies would like to see how the team will bounce back.