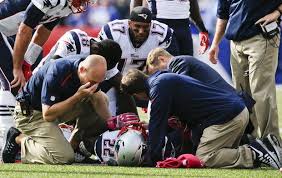 On Monday, RB Stevan Ridley and LB Jerod Mayo were ruled out by the Patriots for their game on Thursday night against the Jets, and according to sources, they will end up missing the whole season. Now many fans fear that New England will have to do without the services of these very important players, and price per head agents would like to see how the team could be affected by their absences.
New England did not want to comment on how severe the players' injuries were, but sources reported that Mayo's knee injury was said to be as "a bad" one, which many fans can see is anything but good news for the team. Sources also reported that Ridley suffered a torn MCL, as well as an ACL – another big problem for the Patriots, to not mention what the players will now have to go through.
"Unfortunately I don't think it looks too good, but we'll see what we get back [from tests]," said coach Bill Belichick. "We'll wait until we get more specific information, but I don't think it's minor, let's put it that way."
Mayo's right knee was injured during the second quarter of the Patriots' 37-22 win on Sunday against Buffalo. He was surrounded by players before being taken off the field, which apparently showed how severe the injury could have been. He was then spotted using a compression sleeve on his knee and on crutches after the game against Buffalo, and now New England fans seriously hope that the player won't be out of the game for a long time.
Price per head agents saw that Ridley suffered the injury on his right knee in the third quarter while making a running play. This season, the player has 94 carries for 340 yards and two TD's without any fumbles, and is a very big favorite with many fans.
Fans of the Patriots are keeping their fingers crossed, hoping to see these players make very quick and full recoveries, and they're very optimistic that all will go well.