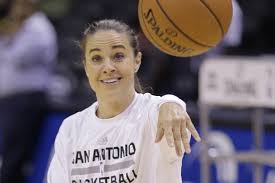 Becky Hammon became the first female head coach in NBA summer league and in her first try she won it. She led the San Antonio Spurs to the Las Vegas Summer League championship.
The Spurs beat the Phoenix Suns 93-90 to win the title game."It was a grind," Hammon said. "They've been together for 17 days. They really started to jell the last two or three games. They listened, and they played really hard for me. I just really appreciate their attentiveness and alertness. They were tired, but they fought through."
The Spurs were in both the Orlando and Las Vegas summer leagues, but Hammon only coached in the higher-profile Vegas event. The Spurs lost the opener to the New York Knicks and then reeled off six straight victories.
Jonathon Simmons went for 23 points and took home MVP honors in the championship game. Treveon Graham scored 22 points for the Spurs.
"It's amazing. It was a humbling experience for all of us," Simmons told NBATV of playing for Hammon. "I really love her, and I've only known her a couple days. She's a real cool coach. She's a player coach. That's something we all like."
Per pay per head sportsbook, Becky Hammon became the first female full-time assistant coach in NBA with the San Antonio Spurs. Earlier this summer, they told her she would lead the team in Las Vegas.
"She's a firecracker. She takes no prisoners. She's got a great personality," Spurs coach Gregg Popovich said last season. "She knows her stuff. She's competitive."
The Spurs have mostly tried to keep their hiring of Hammon low profile but no one can beat the inevitable.
"I don't know if her perspective is unique. It's women instead of men, but it's the same game," Popovich said. "Becky knows what to do on a pick-and-roll just as much as what Tony Parker knows, so I don't think it's unique at all."
The Spurs players gave Hammon a Gatorade bath during the celebration in the locker room.
"You never know what your journey has in store," Hammon said, according to Sports Illustrated. "You just work hard and keep your nose to the grind. You do things the right way, you treat people the right way, and good things happen. … I'm just thankful that [Popovich] trusted me with the guys in that locker room and that those guys trusted me back."