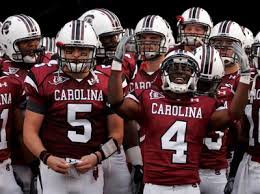 Football betting fans were very amused to learn that coach Steve Spurrier just came up with a brand new expression for all of the players' injury reports buzzing around, and that would be "sort of doubtful".
The South Carolina coach said that Mike Davis, Gamecocks running back who many fans know is a very important part of the team, was "sort of doubtful" for South Carolina's meeting with East Carolina, and this left many fans scratching their heads in confusion, as they simply didn't know what he meant by that.
The player's ribs were bruised – although the extent of the injury is not fully known – and many fans and experts were asking themselves if the player would be ready to go when his team takes on Texas A&M after he was out of fall practice for some time due to his injured ribs. Davis was able to play, but many fans were concerned when they saw that the injury got in the way of his performance during his team's loss.
It is still not known whether Davis will be able to feature for East Carolina or not, but even though it would seem to be a wise decision for the coach to rest the player for the game so can be in good shape for what now turned into a win-or-win situation on September 13 when South Carolina takes on Georgia, the Pirates are by no means an easy target for the Gamecocks. Last season, East Carolina had an average of over 40 points a game when they decided to use an offensive style of play on the field that is pretty close to the one used by Texas A&M, and South Carolina's football betting fans saw that the Gamecock's defense was not in a very easy position at all on Thursday night when they took on the Aggies.
South Carolina's fans are very hopeful to see things improve for Davis and the team, and would also like to see them seriously work on their game – hopefully as soon as possible.