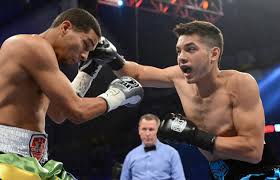 So the fight of the century is over, and it seemed like a lot more than drum roll than was delivered according to sportsbook solutions, but hey, what did you expect for the most hyped boxing match ever.
This weekend we don't have such superstars as Floyd Mayweather Jr. and Manny Pacquiao, but we do have a couple of good bouts that will keep your attention longer.
On Saturday, Ricky Burns takes on Omar Figueroa Jr. and the odds and predictions are all falling to Figueroa, with the current money line at a whopping -900 at sportsbook solutions and a +600 comeback on Burns.
Both men have shown that they throw a lot of punch, and fans can look forward to an exciting fight.
With pre match coverage and the first fight at 4 PM ET, the second fight is scheduled to start at 5 PM ET. The event will be pre-recorded in the event of an early knockout in either fight.
Austin Trout was supposed to fight Anthony Mundine in the first fight, but Mundine dropped out with a perforated ear drum. Replacing Mundine will be Luis Galarza.
Just in case you missed last Saturday's fight, Mayweather beat Pacquiao by unanimous decision. (and there were quite a few fans that were not happy about that)
Manny was apparently fighting through some pain in the end of the bout and will now be out for 9 to 12 months after undergoing shoulder surgery for a significant tear to his right rotator cuff, per sportsbook solutions.
"It's part of the game," Pacquiao said referring to his injury after the fight Saturday. "I don't want to make alibis or complain or anything…[but] it's hard to fight one-handed.".
There are rumblings that with one fight left on his contract, Mayweather may choose to have a re-match with Pacquiao.
And what did the unbeaten Mayweather have to say about that?
"Absolutely not,"
"He was fast. His left hand was fast, his right hand was fast and he was throwing them both fast and strong."
"At this particular time, no, because he's a sore loser and he's a coward. If you lost, accept the loss."