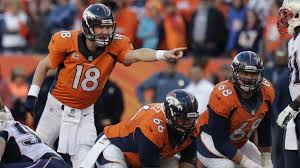 On Sunday night, the Broncos will do their best to beat the Chiefs and move on in their efforts to clinch AFC West title, and online bookmakers expect a very interesting matchup.
In Week 2, Denver were able to win the first game 24-17, but couldn't cover as the favorites by 13 points at home, and now they're the small favorites on the road against Kanas City for the 6th time in a row.
The betting line opened up with the Broncos being the favorites by 1.5 points, and 49.5 was the total.
The Broncos were able to win the last ten games that they played on the road against teams in the AFC West, as they went 9-1 ATS. Denver are fully aware that they can no longer play around if they're to again keep their status as champions in the division.
As the Patriots are set to pay a visit to the Packers earlier on Sunday, the Broncos have a chance to maybe pick up a meeting in the standings if New England end up losing and they win the clash.
The Broncos will also take on a Chiefs side that that were surprisingly beaten by the Raiders and could be doubting themselves after winning five games in a row.
Kansas City should have enough motivation to be able to get back on track after losing to Oakland on the road as the favorites by seven points, and try to beat Denver as the underdogs at home.
All that was necessary was a single loss to knock the team down after they were able to win five consecutive games, and they'll try to pick themselves up and have this game dedicated to safety Eric Berry, who had a mass discovered in his chest, going to the list of players with non-football related illnesses.
In their defense, Berry was one of their most important players, and online bookmakers know that the team will dearly miss him. The Chiefs will do everything they can to win this meeting, especially with Berry not being able to hit the field for the team.
However, the Broncos want to have a chance of making it back to the Superbowl. They're 6-3 ATS in the last nine games that they played against the Chiefs, and last year they won at Arrowhead Stadium 35-28 at around this time. Many experts believe that Denver should figure out a way to finish beating Kansas City when both teams square off.
The over might be the best pick in this meeting, as in 12 games so far on Sunday nights, the over was what won.