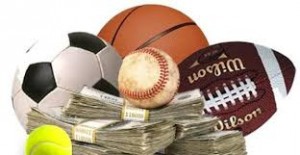 The United States and Canada have been in an evolving flux of transition to get online gambling of all forms, and online sportsbooks offshore have benefitted in the past 15 years.
During March Madness, as well as during World Cup, millions of people participate in tournament pools, all illegally according to the law if money is involved.
Prestigious newspapers and magazines are all asking the question; why can't people bet on sports, or at least March Madness tournament pools? Non sports websites are asking the question that everyone wants to know the answer to.
When will the federal government repeal PAPSA, a law erected by the 4 major sports leagues and the NCAA in 1992?
PAPSA is law that allows single sports betting in Nevada, and different forms of sports betting in Deleware, Oregon and Montana. This law when passed gave any state which had been operating a casino for the previous decade, the one time chance to add sports betting.
New Jersey was the state that said no, yet now wants to legalize it to help its ailing casino industry, particularly in Atlantic City.
This week PBS.com published a poll asking: Should sports betting be legalized? At the time, 78% (175 votes) of the respondents chose.. YES: Hands down. Lotteries and casinos notwithstanding, sports betting is happening anyway, and legalizing it would bring it to the light of day, eliminating corruption. And let's not forget how much cash-strapped states could benefit from the extra revenue.
Remember prohibition? Well maybe you're too young for that, but from 1920 to 1933 the United States banned the production, sale, importation, and transportation of alcohol. What the law did was create an entire nation of criminals, as speakeasies were created in every town, and in some places, law enforcement was part of the fun and ignored the illegal activities.
That sounds almost the same as sports betting to me. Whether it be on the March Madness tournament pool or Sunday night football, it all boils down to the fact that North Americans want to wager on sports, and regardless of the law, they will.
A smart government will eventually repeal the law, but it may take a long time for that to happen. And until then, online sportsbooks offshore will continue to help out with this public need.