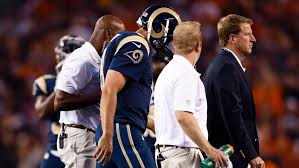 The Rams are not in a very good place at all when it comes to their quarterback position. In fact, football betting fans can see they're in a terrible place. Sources reported that St. Louis could end up without the services of their backup starting quarterback Shaun Hill, when the team takes on the Buccaneers on Sunday due to a strained quad suffered by the player.
Rams may be without starting QB Shaun Hill on Sunday vs. the Buccaneers. He has a strained quad & his status is in doubt. Know more Wed or Thurs
In Hill's debut for St. Louis, the player went 8 for 13 for 81 yards along with an interception before leaving the game after the first half because of the same injury. Austin Davis then replaced him, and he was not exactly Mr. Quarterback either.
As Hill will most likely miss the game, now St. Louis will either have to use the services of Davis, who started for his first regular season in the NFL, or Case Keenum, who is a newly signed player, and many fans believe that he's probably not ready at all to take on the role.
Ever since starting quarterback Sam Bradford ended up going down, St. Louis saw that they were in a very tough place when it came to the quarterback position, and things don't get better at all. Many fans would at least like expect this team to be a bit competitive as the season continues, especially after their game against the Vikings.
As mentioned by Rapoport, Hill is only doubtful, and he was not yet ruled out from the game. More information on the player's status will be known on Wednesday and/or Thursday.
Football betting fans believe that things will not be easy at all for the Rams, and would like to see the team use their heads when they hit the field. Maybe it will take a miracle for them to make it anywhere this season, and maybe not, but the team's fans remain very optimistic no matter what happens with their quarterback.