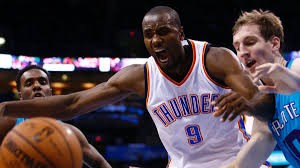 Ibaka is out. How does that effect the Oklahoma City Thunder, or does it? Serge Ibaka is going to have a minor knee procedure due to persistent soreness. As of now the Oklahoma City Thunder are giving him a 2-3 week timetable, but that could change upon the knee specialist's review.
Serge Ibaka will travel to New York to meet with such specialist and will be given a clear timetable, then. He's being shut down now, after 2 days of missing action .This is done with the clear intention of having him back and ready for the postseason. There is a catch. The Oklahoma City Thunder isn't guaranteed a spot for the postseason, due to the stellar play of Anthony Davis and the New Orleans Pelicans with who they're in a dog fight with.
Many injuries have forced the Thunder's hand and price per head sportsbooks have taken advantage. Russell Westbrook has missed 15 games, but since coming back has been a monster. Kevin Durant has missed 39 games and who knows how he'll hold up physically once he's back. He had a screw replaced in his foot not related to his foot fracture to reduce pain and discomfort. Now Serge Ibaka with a knee. It's safe to say the Thunder have had an injury riddled season.
On February 19th the Utah Jazz traded Enes Kanter and Steve Novak to Oklahoma City in a three team trade which also involved the Detroit Pistons snatching away Reggie Jackson , a key component to the Thunder's success last season. Since coming over Kanter has been a nothing short of spectacular. He's averaging 15.7 points and 10.2 rebounds on 53.5 percent shooting over 11 games with the Thunder. The trade has been another shrewd move by the Thunder's General Manager Sam Presti.
Again I ask the question how does Serge Ibaka out indefinitely effect the team. Obviously right off the bat they lose a defensive stalwart, an intimidator and all around great player. In comes Kanter who is no Ibaka but is trying to be the best Enes Kanter he can be. Injuries are prevalent throughout the whole N.B.A season but somehow the Oklahoma City Thunder has found a way to keep chugging along without skipping a beat. Presti is a Genius.