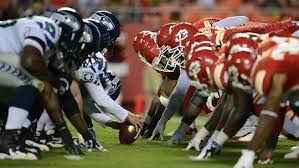 On the first week of the NFL preseason we saw the Seattle Seahawks lose to the Denver Broncos at home, in a game that had them as the lock in favorites.
The Kansas City chiefs on their first game of the preseason dominated and thrashed the Arizona Cardinals 34 to 19. A result that will feed the hope of their loyal fans coming into this season. But if a win last week was a nice treat for the fans, a win versus the Seahawks could be enough to confirm that the Chiefs are going into this season with a mission to muscle their way into the post season. Currently the line on different bookmaker services have them on EV or in some cases the Seahawks are barely considered the favorites.
Kansas City's mission this season will be to prevent Peyton Manning and the Broncos from dominating the AFC West Division for another year. But this year both the Chargers and the Raiders have also started to build competitive teams to make things even tougher for the Broncos. But what makes the Chiefs a more serious threat is that they now have a secret weapon that they have not had on previous seasons: Depth. The Chiefs appear to be have the resources to exchange body blows with the other teams in their division. The first week did show that they appear to be ready, however they faced a much weaker team in the Arizona Cardinals. For the time being the Chiefs might not enter week 2 as the favorites by different bookmaker services. However, that line is expected to shift. It all depends on the status of the Seahawks roster for this game.
The Seahawks on the other hand, did not have a good game against the Broncos. Coming into that game different price per head agents had them as 5 point favorites. The outcome of the game, surprising as it might have been, is still nothing to be alarmed about especially if you are a Seahawks fan, but it does make it fairly evident that their defense is shorthanded at the moment and that they do not currently have the depth that they had on previous seasons. To make matters worse they will be coming into week 2 of the Preseason with at least two more absences, as their backup QB Tavaris Jackson is out due to a sprained ankle and WR Chris Matthews will be out due to a shoulder injury he sustained on week 1.
This game might not be a barn burner, but it will be a good game to examine the status of both teams. Expect the Chiefs to steal the game by 5 points.