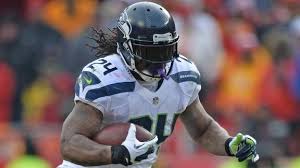 An official from the NFL said that the league gave Seahawks RB Marshawn Lynch a fine of $20,000 for making what was seen as an obscene gesture after he scored a TD in the championship game of the NFC on Sunday. Online bookmakers can see that that this is yet another blunder made by a player who has already created plenty of controversy.
The NFL was not specific about the gesture that he made in the Seahawks' win over the Packers, but the RB grabbed his private parts after he scored a TD during the meeting's fourth quarter. Many fans saw what the player did, and not all were very pleased by this. On the 21st of December, Lynch was given an $11,000 fine after doing something similar when Seattle beat the Cardinals.
This could only be the beginning of what could prove to be a very pricey Super Bowl week for the RB, and the player's fans seriously hope that things don't get any worse for him – or that he doesn't make things worse for himself.
A league official said that the NFL is thinking about giving Lynch a fine that would be "significantly more" than the $50,000 that it fined the player in each one of the last two seasons after he refused to talk to reporters. The RB again refused to speak to the media on Sunday after the game.
This is yet one more problem threatening to loom over the week of the Super Bowl, as the RB now has to speak to reporters on Tuesday, Wednesday, as well as on Thursday, and NFL fans throughout the country wonder if he will comply.
According to an NFL official, the fines that Lynch will get for each missed session will rise. The amount of each one will go over both fines of $50,000, as well as the fine that is set to arrive soon, and many fans would like to see how much he'll be fined this time around.
The Seahawks and the league are currently having talks about the most effective way to handle the player.
Before the game last Sunday, Lynch was also told that wearing gold shoes were not allowed because they breach the league's dressing code on the field, and he wouldn't be able to play if he decided to wear them.
Hopefully the player will behave from now on, as online bookmakers don't see how breaking the rules of the NFL can help him, apart from making him more famous (or infamous) among the fans.