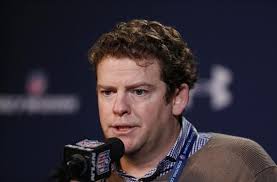 On Friday, when Seahawks GM John Schneider spoke with team reporters, live betting services saw that he didn't give any updates on the contract that QB Russell Wilson has with the team.
"We don't have a timetable," said Schneider. "At the appropriate time when we are able to speak to his representatives, we'll do that. We're not in a situation where we can yet."
Wilson, who this year has a base salary of $662,000, is putting an end to the third season in the NFL, and the player signed to play through the 2015 season. However, the league rules let teams start new contracts with the players. For Wilson, this is pretty much a reality, as there' a big possibility that the player will get a deal running for several years that goes beyond $20 million for each year played.
The GM also spoke about RB Marshawn Lynch, whose third year of a contract of four years is ending, and in 2015 the player is set to get $6.5 million. In 2015, the player will be an $8.5 million hit in the salary cap, but if they were to release him, the team would end up saving $7 million.
"He's under contract next year and he's a warrior," said Schneider. "He goes out there every weekend and lays it on the line. I think you'd be hard-pressed to find a better running back in the National Football League."
Lynch, who live betting services know can be a very controversial player, was given two fines this season for making obscene gestures when scoring TD's, and the RB was also fined $100,000. Lynch also tried to play in the championship game of the NFC wearing gold cleats, which are not approved by the league. When he was asked if he was getting tired of the player's act, Schneider said, "I kind of like his act."
Also, Schneider had a long talk regarding the trade on the 17th of October that saw WR Percy Harvin go to the Jets for draft considerations in the future.
"We took a shot (acquiring Harvin in a trade before the 2013 season) for a highly explosive player," said Schneider "For a number of different reasons it didn't work out. We knew we had to resolve that situation as quickly as we could so we could move forward as an organization. It was a very hard decision, one we didn't make overnight."