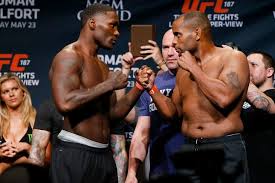 Hope you didn't have to pay for that Chris Weidman vs Vitor Belfort fight Saturday night. Weidman (13-0, 9-0 UFC) finished things up at 2 minutes and 53 seconds into the first round and bookmaker software users were surprised by the speed of the fight.
.
Belfort had started out his career with a 3 match winning streak, but after only a few minutes, was saved by the ref as he withstood a battery by Wiedman on the mount.
The late night matchup of Daniel Cormier against Anthony Johnson looked to be at first in Johnson's favor, after tagging Cormier with a big right handed wallop, just as the match began.
The Twitterverse was all a fever and other pros were reacting as quickly as things were heating up.
The Spartan
✔@EliasTheodorou
The uglier the fight, the more it favours DC. #UFC187
Chris Kelades
✔@keladesmma
Cormier looks like he should be a 85'r #ufc187 #MMA #ufc
Raquel Pennington
✔@RockyPMMA
Damn they are throwing some bombs @dc_mma and @Anthony_Rumble
Cornier then surprised Johnson with a surefire plan that led to his opponent submitting in the third round to end the fight giving Cormier the added bravado in which to address a certain someone he hoped was watching.
"I have a message for one man, Jon Jones," Cormier (16-1) said. "Get your s— together, I'm waiting for you."
Currently Jones is suspended due to a legal situation, so no word on when a rematch may happen, but bookmaker software will have a line as soon as available.
Other takedowns of note were:
Donald Cerrone (28-6, 15-3 UFC) make quick work of Canadian John Makdessi (13-4, 6-4 UFC) with multiple strikes with arms and legs, limiting his opponent to single retaliations, allowing him to make the final blow heard around the arena. Makdessi then called the ref with a jaw injury and the fight was over.
Andre Arlovski took down favorite Travis Browne in the first round with a sensational knock out that wowed the xxxx fans Arlovski (24-10 MMA, 13-4 UFC) was pegged as a significant betting underdog with Brown (17-3-1 MMA, 8-3-1 UFC) -500 on bookmaker software, and had people tweeting quickly about the upset.
Cub Swanson
✔@CubSwanson
That fight was insane!!!!
Related Read: