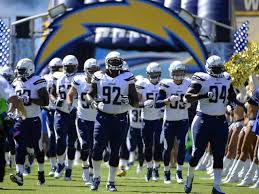 The Chargers were beaten by the Chiefs 19-7 in the season's last playoff meeting even though they had a record of 9-7 during the regular season. PPH bookie services saw that in the last 5 years, San Diego had an average of 8 wins for each season, and only once did they reach the playoffs. However, most of the talk about the team during the offseason involved them making a move to LA. It doesn't matter where the Chargers end up playing, as the odds are not favoring the team to win the Super Bowl, with San Diego being the underdogs at 40/1, +500 for the AFC West, and 22/1 for the AFC Conference.
The Chargers will have no choice but to make very serious improvements in their game on the ground if they're looking to win playoff meetings, and having an offense that stays healthy is only a part of the improvement. Last year there were five players who had starts at center because of their injuries. Orlando Franklin, who will be playing at the left guard position, parted ways with the Broncos and joined the Chargers. The team also acquired the services of Melvin Gordon, and many experts believe that this is a player who will be of great help to QB Philip Rivers.
In the draft, there was plenty of gossip surrounding Rivers when it seemed that the Chargers were thinking about pursuing Marcus Mariota – winner of the Heisman Trophy. This didn't take place, and now Rivers is set to be back in action after he threw in 2014 for 4,286 yards, with 31 TD's. San Diego have a very solid defense, and this was shown last year when they ended in 9th place in the NFL. DC John Pagano will have to see how to create more of a passing rush. Last season, the Chargers only had 26 sacks. DE Cory Liuget, who used to be a pick in the first round, must seriously work on his game.
The Chargers acquired Eric Weddle, Jimmy Wilson, and Patrick Robinson to improve their secondary. If San Diego are looking to be successful this season, they must have a better running game and keep their health. Last season, the team started with the odds at 5-1, but they were unable finish due to injuries suffered on their offense. PPH bookie services know that keeping their health as the season finishes will be vital for coach Mike McCoy and the Chargers to get one more spot in the playoffs, but it's not very realistic at all to think that they have a chance of winning the Super Bowl.