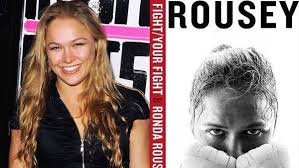 Ronda Rousey (11-0)hieved what few women have ever tried, to become the leading woman in MMA, a field completely dominated by men and sportsbook solutions have eagerly followed the charismatic fighter.
Recently she met with Howard Stern where she discussed another popular fighter, Cristiane "Cyborg" Justino, and her use of PEDs, and that she believed that Justino was afraid of her.
"Of course she is," Rousey told Stern. "What she wants is enough money that she could take a loss for it. She's one of those people where it's all just 'roids and muscle and no technique. No anything."
Justino (13-1, 1 NC) has fought some great contenders in the past, but Rousey pointed out that she was missing a few things when she fought Gina Carano 6 years ago. Carano was able to get a mount on Justino twice, and Justino only won the match due to her aggressive nature.
"She tried to throw her and pulled mount twice," Rousey said. "Her technique just sucks and she just manhandles her way out of it."
Rousey is not worried about the Brazilian though, and would fight her under the right conditions and sportsbook solutions and MMA fans have been wondering if it will happen.
"Would I do that? No," Rousey said. "She would have to make 135 just like everybody else and be clean."
Justino currently weighs in at 145 pounds.
"Pacquiao vs. Mayweather had a five-year build up and it earned 5.5 million buys. We are at about three (years). So I would say, I'll keep my hopes up until five (years), then I'm moving on after that," Rousey said.
Rousey has become an international figure lately, and even had a cover on Sports Illustrated and appeared in the movie Entourage.
She is currently promoting her new book, "My Fight/Your Fight."
From the book:
"The fight is yours to win."
"n this revealing memoir, undefeated UFC champion and Hollywood star Ronda Rousey charts her difficult path to glory, revealing her tragic childhood and her father's suicide, her meteoric rise to fame, the secret behind her undefeated UFC record, and what it takes to become the toughest woman on Earth."