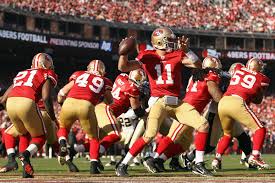 It's only been days since a new domestic violence policy was announced by the league when the San Francisco 49ers' Ray McDonald was put under arrest for this crime, and price per head agents were in a state of disbelief when they learned about what the player allegedly did – especially since it reportedly happened in such a short time after the announcement was made.
The policy states that a player is suspended for six games after his first offense, and banned for life from the sport after his second one.
It would be safe to believe that the public is not very happy at all about this, so it would have been very reasonable to think that Commissioner Roger Goodell would have decided to speed up the player's punishment, but instead he wanted to just "let the process play out."
"I think the first thing we have to do is let the process play out, get the facts, and make sure you understand all the circumstances," he said. "We don't [know the facts] right now and we're obviously following it very closely. But the policy will be applied uniformly across players, coaches, executives, commissioners. I think we made that very clear in the policy."
But there are many NFL fans out there who believe that Goodell made the right decision, as only because something was allegedly done by a player does not mean that it really happened.
Fans know that it's vital to punish players in the NFL who break a very important policy like this one, and getting rid of domestic violence incidents among players should be the most urgent issue for the league to work on, as this isn't something to take lightly at all.
However, many fans believe that it would not be fair at all to evade a system that was already made, and to start to randomly give out punishments.
Price per head agents know how serious domestic violence is in the sport and outside of it, and would like to see the NFL adopt a very tough stance on the problem. It seems that this new policy is the first step – now fans want to see it put to action, and wonder what will ultimately happen with McDonald.