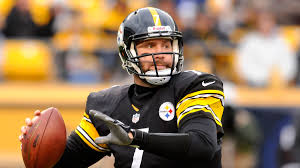 On Tuesday, Ben Roethlisberger said that he's still feeling pretty sore after Courtney Upshaw hit him in the chest on Thursday night in Pittsburgh's 26-6 loss to Baltimore, and the quarterback believes that that the hit that he took from the Ravens linebacker is the second-hardest one that he received in his professional career. Local bookies know that if Big Ben says that he was hit hard, it must have been for a reason.
"I'm hurting today as much as I was at any point I can think of in the last year," the player said in his weekly radio show.
On the game's third play, Upshaw was able to get a clean run at Big Ben. The hit was so strong that the wind was knocked right out of him, and many fans saw that a 15-yard penalty was drawn.
Local bookies saw that the play where the hit was delivered was a lot like the one that took place in 2006 in Baltimore, where Bart Scott, former linebacker for the Ravens, hit Roethlisberger when making a blitz, and Big Ben considers that hit to be the hardest one that he ever took.
"This is easily right there with a close second," said the QB, who was having trouble with his accuracy in the game after the hit by Upshaw. "I lost my breath instantly and remember hitting the ground thinking, 'Boy, that hurt a lot.' I kind of pride myself on not taking those big hits, but I sure as heck didn't see it coming."
The player also didn't see that in their last six quarters Pittsburgh was only able to score three field goals. But the player said that the offense's early drop of form can be solved as Pittsburgh gets ready for road game on Sunday night against the Carolina Panthers
"It's nothing to be scared about," the player said regarding the offense's problems. "It's just a little thing here, a little thing there.
"We're going to get some people involved that haven't been on the field — the Will Johnsons, the Matt Spaeths — guys we feel are too good of players not to have on the field. We'll change the tempo a little more, we'll do a little bit more no-huddle."
In the meantime, coach John Harbaugh didn't know what to think when it came to Upshaw's penalty. The coach said that he spoke about it with Dean Blandino, the NFL's officiating chief.
"The way the rules are written is one thing; what's possible to accomplish is another thing," said Harbaugh. "There's no way to coach Courtney out of that. He's coming full speed, he's getting down into the strike zone, and he's keeping his eyes up. He can't lift his head any higher than that.
"He also can't get his head off to the side because Ben's moving, and also the fact that if he gets his head off to the side, he has a real good chance of missing the tackle or hurting himself by dropping his head. We're never going to put our player in position to coach him to drop his head."