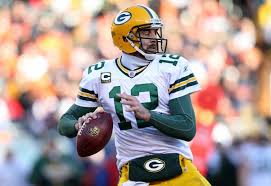 QB Aaron Rodgers' status for Sunday night's game against the Bears won't be a problem, but Green Bay's starting guards are on the questionable list, something that many fans and bookmaker software services believe could be a big problem when the Packers face Chicago.
The player was able to practice for a whole week since he returned to action from his week off, which was spent receiving treatment for a pulled hamstring – an injury that he suffered when the Packers took on the Saints on October 26.
Rodgers was officially put on the probable list, but on Friday, coach Mike McCarthy said that the mobility of the QB was in no way limited, and that the team's entire playbook will be available for him.
McCarthy didn't call anything except for shotgun plays after the prized QB suffered the injury in the team's game against New Orleans.
"I just got done meeting with Aaron; he feels good," said McCarthy. "He had a couple throws to his left yesterday, so it's really kind of the last thing he wanted to feel and see. He's ready to go."
However, the story was quite different when it came to RG T.J. Lang and LG Josh Sitton. Lang's left ankle was sprained, and Sitton is currently in a bid to work through a ligament that he tore in the big toe of his left foot. Both of these injuries took place against New Orleans. This week, neither one of the players was able to practice.
On Friday, Green Bay did not hold practice, but at 8am, Lang and Sitton were put to work by the team's trainers.
"They both completed it," said McCarthy about the workout. "The workload they were asked to do, they exceeded it. That part went well, but really their evaluation tomorrow is the next step we have to get through."
If Green Bay have no choice but to miss the services their two starting guards – something that concerns many fans – they would have to do with JC Tretter and Lane Taylor, two players who are starting in the NFL for the first time, and who many experts believe have plenty of promise in the game.
The Packers' fans can see that the team could be in a bit of a pickle for their game on Sunday, and many experts, especially those dealing with bookmaker services, believe that they will manage against the Bears and most likely win the game, but it's still too early to tell how they could be affected if the starters miss out.