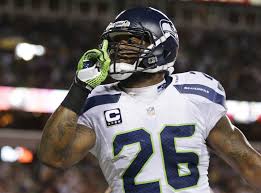 The Seahawks, after coming to the conclusion that Percy Harvin didn't fit in with the team, sent him on Friday to the Jets. Pay per head agents saw that the deal involving the player took place 19 months after the team decided to acquire his services from the Vikings. Then there were several reports about Harvin not being able to get along with his fellow players.
Michael Robinson – his former teammate in Seattle – said on Sunday that he was the player who broke up a fight that took place between WR Golden Tate and Harvin the day before the last Super Bowl got underway.
"Something did go on at the Super Bowl that a lot of fans don't know about," said Robinson. "There was an altercation in the locker room between Percy Harvin and Golden Tate. It saddens me because I was a leader on that team and to know that this information got out — usually Pete Carroll-coached teams, this type of thing stays in-house. There was an issue, I physically broke it up, I was there, you would have to ask those guys what they were arguing about, I'm not at liberty to talk about it. …
"We kind of talked about it afterwards," added Robinson. "I talked to Percy and Golden and they ironed their situation out. But again, you've been in locker rooms, these type of things happen all the time. Families fight. That is what is so disturbing. Again, this type of information usually doesn't get out of that locker room. Why it comes out now, almost a year after the Super Bowl is mind-boggling."
News of this emerged because apparently there's someone who would like to see Harvin as being a problem in the locker-room, and the player's record shows this.
However, pay per head agents can see that the most important thing that nobody seems to mention is that for over eight months the fighting incident was kept hidden, something that pretty much means that almost everything is solved by winning. However, now GM John Schneider and coach Peter Carroll made the decision that Harvin was not really worth all the trouble, and decided to trade the player.