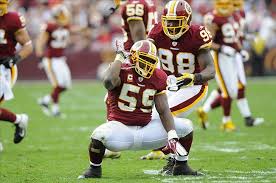 The Redskins gave Robert Griffin III the green light to talk to the media, and pay per head agents are glad that they did. The player quoted who else by Winston Churchill, and spoke about the big question mark of whether he should return to action on the team's game on Monday night against the Cowboys.
RG3 spoke on Friday for a little over a minute, and this proved to be the first time that he said something to the media about his injury since he suffered a dislocated ankle in Week 2 of the regular season.
No questions were taken by the player. RG3's appearance was scheduled by the Redskins after it was suggested by reporters that the player not being available to talk to the media was a possible breach of the access rules that the NFL has.
Jay Gruden, Redskins coach, did not rule the player out for the meeting with the Cowboys on Monday night, but said that Colt McCoy is still expected to start in the game. The player featured in the second half when Kirk Cousins was sent to the bench at halftime in the team's win against the Titans on Sunday.
This is what RG3 had to say:
"How're y'all doing? Everybody's waiting, I can see it. You guys are ready. Nah, man, a quote that I stumbled upon during this process of being injured, being out, was by Winston Churchill, and it says, `Courage is what it takes to stand up and do something. Courage is also what it takes to sit down and listen.'
"So during this time I've been listening, learning, growing as a player in this offense. It's our job to help this team win, and, you know, I've been there for Kirk and Colt as much as I possibly can, and being there for this team to make sure they're as ready as possible during this process. And it (stinks) that I can't get out there and play with them and help them get wins, but I've been listening to the doctors, listening to the trainers, listening to coaches. We're not going to rush my ankle.
"You know, it's a blessing that I wasn't hurt as bad as it could've been. It's been a blessing and I've been recovering right on time, so that's good. But at the same time we don't want to rush that. And it's Dallas week. We all want to beat Dallas. We know what this game means for our season, so that's what I've been trying to do this week, and making sure that I'm ready to go, making sure this team's ready to go, and whoever plays quarterback is ready to go. That's all I've got to say. Beat Dallas."
What Churchill was quoted as saying is really supposed to read: "Courage is what it takes to stand up and speak; courage is also what it takes to sit down and listen."
On Friday, RG3 was listed again as being limited in practice. The coach said that the majority of the first-team snaps were taken by McCoy, and that the scout-team and first-team snaps were taken by RG3. Gruden said that he would not make an announcement of the player's status until a short time before the game gets underway.
"We're still preparing for Colt to be the starter," said Gruden, "and Robert is continuing with his practice exertion."