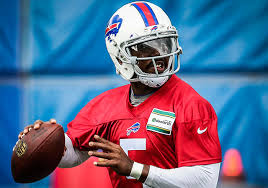 When Buffalo Bills camp opened everyone knew the quarterback position was going to be won in preseason. The competition is over, Rex Ryan chose Tyrod Taylor to start Week 1 against Andrew Luck and the Colts. Pay Per Head Sportsbook has the Colts a heavy contender at 9/1 and PPH Bookie service has the Bills at 45/1.
Rex said he had a "change of heart" after he said he would not name a starter during preseason. "I thought it was going to help us," Ryan said. "But in actuality, I know the way it is. I know people get bombarded. I don't want our players being bombarded about whose getting reps, all this kind of stuff. … I'll get that speculation over with, and then we'll move forward."
Taylor won the job over EJ Manuel and Matt Cassel and completed 24-31 passes for 236 yards in the preseason. Rex likes what he sees in Taylor with his explosiveness and also said "he's on top of what we're doing."
"Obviously, you know about [Taylor]'s accomplishments as a runner," Ryan said. "I mean, it's very well documented. When you have more rushing yards than Michael Vick at [Virginia Tech], that's pretty obvious that he has that ability.
"But we brought him in because No. 1 — it's a brand new offense — but how he grasps our offense, and then his ability, not just his mobility, but his ability to throw the ball was the overriding thing. And I think he did a tremendous job of that."
All four quarterbacks the Bills deployed played well. "I have no regrets," Manuel said. "I felt like I did what I was supposed to do, did well in the games. That's what I said I wanted to do well, was perform well in those practice situations. Got an opportunity to go with the [first team] and did well. So that's how it goes."
Now Rex Ryan has to make a decision on the backup quarterback. "I think you guys can figure it out," Ryan said. "But I'm never gonna say never. Because I'm not gonna do that. But I envision three. I would stand by exactly my words. You can look into the meetings if you want."
The Bills will a have a top notch defense and a new coach who prefers that side of the football if Tyrod can give them a spark on offense the Bills will be in great shape.