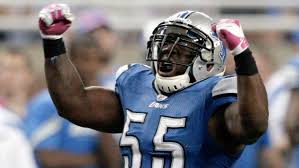 Middle LB Stephen Tulloch doesn't know where he stands with the Lions this year, but rehab for a torn ACL in his left knee no longer concerns the player, something that the team's fans and price per head bookies see as great news.
On Sunday, Tulloch said that his knee's recovery is moving faster than expected. Last season, the LB suffered the injury in Week 3 as he celebrated after a sack of Packers QB Aaron Rodgers.
"I'm way ahead of schedule and I feel great," said Tulloch. "I was telling a friend of mine yesterday, man, it's crazy how you feel stronger than you did previous, before the surgery. Just training every day and working hard with my trainers and my rehab therapists, it's great and I'm looking forward to the season."
Tulloch, 30-years-old, hopes to go back to the team, and on the 20th of April he plans to report to the Lions along with all of the team. The LB said that neither he nor Drew Rosenhaus, his agent, heard from Detroit, so he's working as if next season he'll continue playing with them, and said that he got mail regarding the Lions' program for the offseason.
The LB's injury snapped the 131 games in a row played in a regular season, as well as five consecutive seasons with more than 100 tackles made.
When Tulloch didn't play, his position was filled in by Josh Bynes and Tahir Whitehead. At first, Whitehead also took over play-calling in defense, but price per head bookies saw that outside LB DeAndre Levy eventually got that position.
Tulloch performed very well in the two-plus meetings that he played prior to the injury, having two sacks and 20 tackles. GM Martin Mayhew had very positive things to say about Tulloch when he was asked about what the future has in store for the player.
"The thing with Stephen is, his grades were exceptional in all those games," said Mayhew. "And I think he was still adapting to our new defensive scheme at that time. So I don't think he think he totally had the whole scheme down as a MIKE backer. There's a lot of plays in front of him and on the back end so he has to make a lot of calls and there's a lot of responsibility that he has that a guy like say Rashean Mathis or Jason Jones doesn't have because he's the middle linebacker.
"He was still sort of adapting to the scheme and he was playing lights out. He was playing great. You have to evaluate all that as you go but I was happy with the way he played last year."