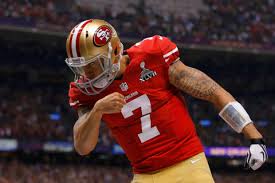 Local bookies believe that San Francisco 49ers QB Colin Kaepernick will probably want to forget all about his team's surprising 28-20 loss to the Chicago Bears last week.
In the 49ers' loss, four turnovers were made by the player, but what caught the eye of fans and experts was an unusual flag.
The referees said that a racial slur was used by Kaepernick, after the player threw an interception that ended up setting up a TD by the Bears.
The QB was hit with a fine of more than $11k after his alleged slur, but according to the player, he said nothing.
The player stressed that nothing wrong was done by him when he and Lamarr Houston, Bears defensive end, went head-to-head, and Kaepernick points to the comments made by Houston that nothing out of line or offensive was said by the QB. Houston was shoved by Kaepernick after the play took place.
"It will be appealed," said Kaepernick. "I didn't say anything. Lamarr Houston said I didn't say anything. We're going to leave it at that."
Laird Hayes, who was a side judge, gave the player the flag for what was considered to be unsportsmanlike behavior.
After the game, Houston said that he did not hear a thing from Kaepernick and that he did say something to the QB after Kyle Fuller's first of two interceptions late in the game that helped the Bears win.
"I said, `Nice pass,'" said Houston.
San Fransico's QB believes that he can appeal after what Houston had to say, and local bookies would really like to see what will happen – if anything – if the player appeals.
"The player that I supposedly said something to has been quoted saying that I didn't say anything, and I don't know him, so it's not like he would have a reason to just randomly stick up for me," said Kaepernick.
Kaepernick said that in the NFL letter that mentioned the fine, an explanation of what Hayes claimed was said by him wasn't given.
Jim Harbaugh, 49ers coach, was trying to find his own explanation and he heard the league say that a change on the referee's call would not be made.
"Colin says he didn't say anything, this person says what they say and somebody else heard something else," said Harbaugh. "I don't have a stance. You can only imagine. I don't have a stance because I don't know, I didn't hear it. Colin's always been truthful 100 percent of the time."