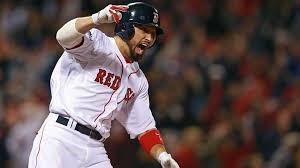 Per pay per head sportsbook sources the Boston Red Sox have traded Shane Victorino to the LA Angels for infielder Josh Rutledge. "Tears of joy," he called them Monday night at his press conference. Ben Cherington called Victorino one of the most passionate players he has ever known could not fight back the tear of his parting from the Red Sox. Victorino was told the new a little more than hour before a game against the Chicago White Sox, a game he saw in the clubhouse.
The Red Sow will pay $3.8 million of the $4.9 million remaining on Victorino's contract, according to Sportsbook Software sources.
"My wife [Melissa] said to me this morning, she [asked] me about going somewhere. I said, 'I'm fine here, I want to finish the deal.' She said, 'Don't you want to go and win another ring?'" Victorino said.
"Sometimes you overlook that simple fact. Yes, there's nothing I want to do more than win another ring."
But almost before taking his next breath, Victorino covered his face as he sobbed, reflecting on what he is leaving behind.
"People doubted me in 2012," said Victorino, alluding to the year the Phillies traded him to the Dodgers, who subsequently acquired Carl Crawford and elected to let Victorino walk as a free agent. "The Red Sox gave me a chance to win a World Series. I have nothing but respect for John Henry, Larry Lucchino, Tom [Werner], again, Ben [Cherington], John [Farrell]. More important, my teammates. I mean, I'm going to miss them. That's the toughest part. "I'm going to miss these guys."
Victorino expressed a little regret for not being able to much the past two years. He played a total of 63 games due to leg, back, and thumb injuries. "The last two years, I take a lot of fault for not being out there, not being healthy," he said.
"What am I going to be remembered as in a city like this? I hope people remember me one way and understand injuries are not something that any athlete wants to face. I hope I'll be remembered for what happened in '13. We use that slogan that will always be a part of us: Boston Strong."
And when he was asked whether he could fully appreciate how much his walk-up music, Bob Marley's "Three Little Birds," with its hopeful lyrics of how "every little thing is gonna be all right" meant to a region buffeted by the Boston Marathon bombings in 2013, Victorino was again overcome.
"That's my answer," he said. "Tears of joy, understandably so. Think about a song as an athlete, to have a city sing it, that song is something I'll never forget. When I go to Anaheim, I think I'll have to change it, out of respect for Red Sox Nation. The fans in this region fell in love with this song. It means a lot not only to myself, my family, my friends who witnessed it.
"I hope they never forget that song. I know I'll never forget that song."