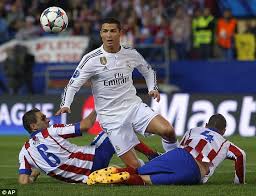 The match between Real Madrid and Atletico de Madrid a rematch from last year's UEFA champions league final which was won by the Real Madrid giving them the coveted 10th UEFA league championship and setting them alone as the maximum winners of this European cup. Atletico de Madrid is one of Real Madrid's toughest adversaries since 2013 on their last 4 clasico's the "Madrid Derby" Atletico de Madrid has won 3 and tied only one of the matches. I am not afraid to say that this is only one of the two or three teams in the world that can bring fear upon the Real Madrid fans.
They have tied their most recent match on the UEFA Champions League 2015 match played on the Vicente Calderon Stadium home of Atletico de Madrid with a scoreless game in which they split dominance Real Madrid clearly dominated the first half of the match and Atletico de Madrid the second half, Los Colchoneros (Atletico de Madrid) played a very tactical and impressive match they all attack and they all defend is a beauty to see a team perform which such precision like a symphony beautifully orchestrated by their coach Diego Simeone.
This is only the second time in the last 47 Champions League matches that the Real Madrid has failed to score and the first time in European competition since 2007 that they've been on a scoreless draw. The Real Madrid is trying to become the first team to win back to back EUFA League Champions since the 1989 and 1990 Italian team the AC Milan. This will be amazing for the Real Madrid coach Carlo Ancelotti as he was playing for the AC Milan team when they completed this back to back in 1989 and 1990 and now 25 years later he now has the opportunity to win this as a coach.
They will meet again for the second leg at the Santiago Bernabeu on April 22nd, price per head agents and people looking for pay per head agents should be making their moves soon as next week the EUFA league Champions will be finishing the quarter-final second leg. An interesting thing about this second leg match is that if Atletico de Madrid scores as a visitor Real Madrid will be obligated to score at least two goals because in the event of a draw the visiting team's goal is worth double.