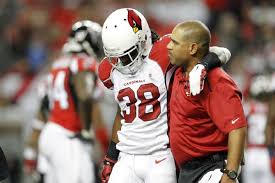 The Cardinals won't have the services of starting RB Andre Ellington on Sunday when they face the Chiefs, something that many fans and live betting services hope won't get in the way of the team's performance.
The RB suffered a hip pointer in the game last weekend against the Falcons – something that concerned many fans – and he won't be able to feature in Sunday's matchup. The player also has a lingering injury to the foot that set him back early during season, and continued to get in his way. With Ellington out, Stepfan Taylor will start for Arizona, said coach Bruce Arians. RB's Robert Hughes and Marion Grice, who didn't make an offensive snap when the team took on Atlanta, will be filling the rotation in the backfield.
"We're just going to play it by ear," said the coach. "Each guy's got a little package for this one. There's always a surprise here and there."
On Friday, RB Michael Bush was released by Arizona. Bush sat out during the loss the Falcons last weekend.
The status WR Larry Fitzgerald, who didn't feature for two games in a row after he suffered a sprained left MCL, will be decided at the game. On Friday, Fitzgerald held full practice for the very first time since November 14, and now the player has been put on the questionable list.
"He's practiced all week," said Arians. "He's gotten better each day, but he's still not 100 percent."
Safety Tyrann Mathieu (thumb) and DT Ed Stinson (toe) both ended up being ruled out against the Chiefs.
LT Jared Veldheer was put on the questionable list due to an injury to the ankle, but for the past couple of days the player was able to practice, which came as a relief.
"He'll be pretty solid," said Arians, and many fans believe him.
LB Larry Foote held limited practice on Friday and was put on the team's questionable list.
The Cardinals' fans and live betting services are worried about the team being set back with Ellington out of the game, but know that the most important thing is for him to return to full health, and even if he has to be out the court for a while, many believe that the team will find a way to work around his absence.