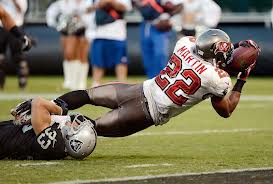 On Thursday, RB Doug Martin, who was not able to play for the Buccaneers in their last two games due to an injury to the knee, said that he's looking forward to returning to action when the team takes on the Steelers on Sunday, and many pay per head fans can't wait to see how the player will perform at Pittsburgh after his absence.
"The knee's coming along just fine," said the player. "Full go in practice, and I expect to play in this upcoming game."
The RB suffered the injury when the Bucs were defeated by the Panthers in their opening game of the season. The player was also set back last season due to injury, and many fans were very worried when they didn't see him feature for the Bucs. Martin would like people to know that he still happens to be the same player who in 2012 – as a rookie – was able to gain over 1,400 yards.
"It's a business of what have you done for me lately?" said Martin. "I just want to go out there and prove that I'm that same 'back I was my rookie year."
Many fans saw that Bobby Rainey was the one to step up for Martin in both of the games where he wasn't able to play. When the Bucs lost to the Rams in Week 2, his replacement was able to rush for 144 yards, but in their loss to the Falcons last week, he ended up losing two fumbles.
Also, Vincent Jackson – Bucs receiver – said that last week his wrist suffered a hairline fracture, something that created plenty of concern among the team's pay per head fans. The player was practicing and he looks forward to playing despite the injury sustained.
"It's something we're going to work through," said Jackson. "The training staff's doing a great job giving me the brace and support I can get from it. But it's something I'm going to have to deal with for a few weeks, so I'm ready for that."