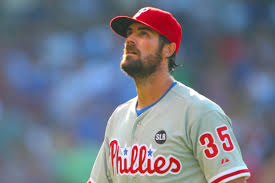 Per pay per head sportsbook sources, the Texas Rangers have acquired Phillies ace Cole Hamels on Wednesday night. The Rangers will also receive reliever Jake Diekman in the deal which includes the Rangers sending Matt Harrison to the Phillies and 5 prospects.
Per Per Head sources the Phillies will receive top catching prospect Jorge Alfaro, with the aging Ruiz they needed someone to takeover when his career is over. Alfaro, the key prospect heading to Philadelphia, is expected to miss the rest of the season because of an ankle injury he suffered in June. He was hitting .253 with five home runs for Double-A Frisco prior to the injury. They also acquired outfielder Nick Williams and right handers Alec Asher, Jake Thompson and Jerad Eickhoff. ESPN Keith Law ranks Alfaro the 49th prospect in baseball.
The Phillies had told several teams interested in acquiring Hamels that they'd like to get their "best" offers by Wednesday, sources previously told ESPN. The Phillies had continued to speak with a large number of teams about the 31-year-old lefty, including the Dodgers, Cubs, Giants, Astros,Diamondbacks, Yankees and Red Sox.
Hamels owns a 6-7 record with a 3.64 ERA and threw a season high 129 pitches in Sunday's no-hitter against the Cubs. He would become the first pitcher in major league history traded during a season immediately after throwing a no-hitter.
Texas is seven games behind AL West-leading Houston and four games behind Minnesota for the AL's second wild-card spot.
"He's definitely a great pitcher," Rangers first baseman Mitch Moreland said after Texas beat the New York Yankees 5-2 Wednesday. "Obviously watched the no-hitter the other day, pretty impressive. He's got a long track record of great success. It will be huge for us."
For the Phillies some had this to say: "He's been here a long time, but that's baseball," Phillies catcher Carlos Ruiz said following an 8-2 loss at Toronto. "Definitely it's sad when you're around one of your teammates for a long time and then they have to go away."
The Phillies are in full blown rebuild mode, even though the Rangers didn't give prized prospects like Joey Gallo they did give up a lot of potential. This will be used by the Phillies to add depth to their farm system. The Rangers effectively will wind up paying only about $40 million for the next three-plus seasons, a source told ESPN.com.