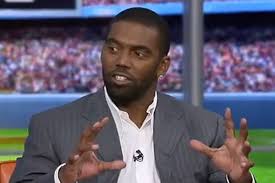 The great Randy Moss, former New England Patriot says in practice Brady is lights out, but knows that the ongoing battle with the NFL is affecting the star quarterback. Pay per head sportsbook has the Patriots at 17/2 even with Brady's suspension looming.
"One thing you all have to realize is that Tom is human," Moss said Thursday after the Patriots' joint practice with the New Orleans Saints, as he was a guest of the team. "I'm not going to sit up here and tell you it doesn't affect him. Not only does it affect him, it affects everybody in his circle. It's just something as a professional, you just have to live with it and just move on from it.
"We talk every month, but that's something we don't talk about. I told Tom, first and foremost, that I'm going to stand by him regardless of what happens."
Moss was on the practice field on Thursday admiring Brady's workout, where he took all the practice reps and had only four incomplete passes.
"He looked good. It looks like the game has slowed down for him," said Moss, who played for the Patriots from 2007 to 2010. "Any time the game slows down for you, that's dangerous because that means he's able to think a little bit slower, to be able to make decisions for the offense. So it just looked good to me, from the outside looking in.
"He's making his throws, reading the defense, changing his 'mike' calls and things like that. I just told him that if the game has slowed down this much for you, only great things can happen."
Randy Moss wasn't the only notable at patriot's practice, golf player Bubba Watson was at attendance along with NBA legend Jerry West. Moss a West Virginia native must have been very pleased to meet the great West.
"Bill [Belichick]'s a legend. Tom's a legend. There are all kinds of legends on the field, but my legend growing up was Jerry West," Moss said. "That was my first time ever meeting Jerry West. It was definitely an honor. Felt like a kid looking up at the NBA logo. That's what I've always called him; never called him Jerry West.
"I've always called him 'the NBA logo' because I thought that was something special. He represents the same state I represent. By him being the NBA logo, and him being right across the river from me, I looked up to him growing up. I finally got to meet my childhood hero, so it was a special day for me."