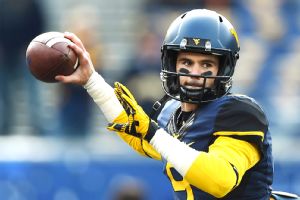 On Friday, West Virginia coach Dana Holgorsen said that QB Clint Trickett won't be able to feature in the team's game against Texas A&M on the 29th of December, when the Liberty Bowl gets underway, something that worries many fans and price per head agents.
Trickett had a concussion in a game against Kansas that took place on the 20th of November. However, the player was given the green light to hit the field in the Liberty Bowl. But QB Skyler Howard will be the one to feature for West Virginia when they take on Texas A&M.
Trickett – who's a senior – said that in the last 14 months he had five concussions, and he decided to hide from the trainers two of those injuries.
"It would be dangerous for me to be out there," said Trickett.
The player did not feature since the Mountaineers were beaten by the Kansas State Wildcats 26-20. After Friday, when the player spoke about all of the concussions that he suffered during the last 14 months, Trickett mentioned that he didn't talk to the team's medical staff about a few of them when they took place.
"That was on me," said the player. "If they would have known, they probably would have been more cautious about it, but I was trying to push through it."
Trickett said that he wants to have a coaching role, saying that it was the "family business." The player is the son of Rick Trickett, who's the offensive line coach for the Seminoles. His college career started with Florida State before he moved to West Virginia.
"I know he's going to be a hell of a coach one day," said Holgorsen.
This season, Howard is 36 out of 65 for 483 yards, along with five TD passes without any picks in three matches. Pay per head agents saw the player start in the team's last game of the regular season against the Iowa State Cyclones, and was able to throw for 285 yards and 3 picks as he rushed for 69 additional yards in West Virginia's win of 37-24.
"The improvements that he made in the last two months, I've never seen it with a quarterback before, not as a true sophomore," said Holgorsen.
This season, the player was able to complete 67.1% of the passes that he made for 3,285 yards, as well as 18 TD's with 10 picks.
"I would love to be out there and finish the season with my guys my last game," said Trickett. "It's unfortunate how it ended, but I had a great senior year."
More College Football News by IDSca.com the real Price per Head service:
Jimbo Fisher agrees to a new contract with Florida State
Florida State will have it tough when they face Oregon's offense
Alabama could upset Ohio State in the Sugar Bowl
Alamo Bowl Game Preview: UCLA vs. Kansas State