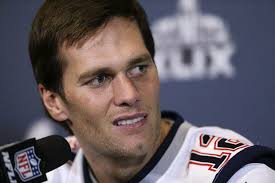 Tom Brady has a cold, and many fans are worried. Online bookmakers saw that on Wednesday, the world famous Patriots QB was sniffling throughout his entire Super Bowl interview with the media – which lasted 45 minutes – but the player seems to be optimistic despite this latest malady.
"I've had it for four to five days, my kids got sick and my wife's pretty sick right now," said the star QB. "I brought it, unfortunately, to Phoenix, but I'll be fine. I'll be good."
The QB says that he's looking forward to being "100 percent" on Sunday, and also said that he's "not worried about it at all." Unfortunately, the same cannot be said about many of his fans.
Brady said in an interview that he's eating a lot of garlic and getting rest, things that he said were "old remedies."
The Patriots and Brady held their practice at Arizona on Wednesday since they arrived on Monday at Phoenix. New England practiced at the Cardinals' facility, which features two outdoor fields as well as one indoor field. The Patriots were practicing at Sun Devil Stadium in Arizona before Super Bowl XLIX.
The QB said that the team had "real good practices up to this point, but we still have a lot of preparation left." Online bookmakers learned that a part of them involved particular situations that could show up when they face the Seahawks.
"Most of the plan is in, now it's about refining it," said Brady. "There are only 65 plays left in the season, or 70 plays left in the season, so every play that you call is paramount. We have to make sure we're dialed in and every play we call, we have a chance for success."
Brady also mentioned his training before facing the Seahawks, who he only played in two occasions throughout his career in the NFL.
"I've watched more film than I think I've ever watched in my life," he said. "I feel like I know these guys pretty well, I know how they play. I have a lot of respect for the way they play. They have good players and a great scheme, and they have very good coaching. You can see everything is very well-coordinated with this team, and they all have responsibilities and they do a great job and are very disciplined in doing it.
"We're pretty disciplined, too, so it's going to be a test of wills to see who will break down first. I certainly hope it's them, not us. But that's what makes for a defense."