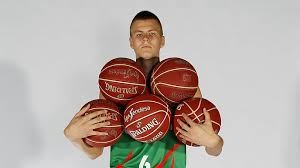 Kristaps Porzingis is a 7'1 power forward. He comes from the hometown of Ventspils, Latvia from the team of Cajasol Sevilla. Even though he is seven footer and has perfect height for the role combined with long arms and big hands. Despite his attributes he prefers to play small forward showing amazing body control, coordination and ball handling skills.
Porzingis excels in transition situations where he can use his speed, fluidity and athleticism to outrun his defenders. Throughout the year he has progressed in his off the ball game, exploiting cuts and backdoors to get to the rim. He is a solid shooter with range out to the three point line. He shows great confidence in his shot with a variety of step-back, pull-up jumper; catch and shoot are all part of his repertoire. On the defensive side he is really effective as a weak side defender. With his quickness and athleticism he can cover lot of space and alter or block shots.
He has the ability to defend the pick and roll well and guard multiple positions which is of great benefit for big men especially at the NBA level. Born in august of 1995 which makes him one of the youngest players in the draft.
His frame does need work he has skinny narrow shoulder which he will need to bulk up. His eight affect his game in the sense of settling for midrange jumpers instead of attacking the rim and drawing fouls. His inside game is almost no existent as it is difficult for him to establish position in the post. Most of his inside points come off offensive put backs as his game t this point is solely a face up game. Essentially he's a shooting guard in a centers body. Even though he I an intriguing prospect he painfully needs to develop physically and is still a tweener.
He is averiging 6 points and 3 rebounds in ACB. He averaged 11.6 points and 10 rebounds during his last Fiba U18 European Championship, being included in the top 5 of the tournament. He is a good teammate and pupil and already speaks Spanish and English fluently.
Pay per head services have the lottery draft odds at Minnesota Timberwolves 25%, New York Knicks at 19.9% and the Philadelphia 76ers at 15.6%. He is believed to be a top 5 pick in the draft and is a high risk/ high reward pick on any general manager feeling frisky.