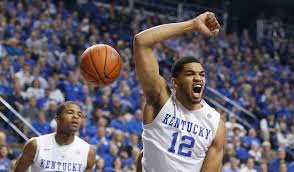 Karl- Anthony Towns, Kentucky Wildcats power forward/ center. Measured at 6'11.5 in shoes and weighing in at 235 lbs, with a 7'3 wingspan. Town's mother hails from the Dominican Republic and comes from the hometown of Piscataway, New Jersey.
Towns are the epitome of potential. Already advanced at different areas of the game for a big man, he possesses a high IQ and willingness to get better. He has the size and strength to have an impact at both ends of the floor in the NBA. A very hard working smart kid with strength of character. He shows a desire and competitive nature that GM's drool over when speaking of young big men. Possesses a great feel for the game and his offensive game oozes potential with text book form. Even though not shown much at Kentucky he has a great touch and the ability to hit midrange and outside shots with ease. This year he implemented a hook shot to his repertoire.
He is a very strong kid which helps for rebounding position and is able to hold position in the post. He has bulked up a bit but his frame can hold even more muscle which will only be benefit against bigger stronger NBA players. He shows a willingness to play physical and fight in the post. Towns also is a terrific passer and shows good vision and is able to find open teammates when double teamed. Though not a huge leaper, he is a great shot blocker with exquisite timing and an adequate rim protector. Town also shows the ability to defend smaller players around the perimeter as well.
He does come with his fair share of weaknesses as well. At the beginning of his college career had a difficult time with his post moves. He actually still appears to be growing into his body. He is a very solid athlete but not an explosive leaper, even though he has shown the ability to dunk form the free throw line. He has huge feet which seem to weigh him down. His upper body is ahead of hi lower body where he does need work.
Pay per head and Bookmaking solutions have the lottery draft odds at Minnesota Timberwolves 25%, New York Knicks at 19.9% and the Philadelphia 76ers at 15.6%. Towns I believed to be either the number 1 or 2 pick in draft.