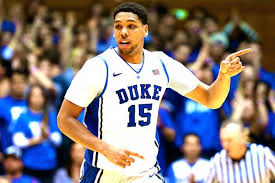 Duke center Jahlil Okafor came in to college with a lot of hype and he did nothing to disappoint us. One of the most advanced low post scorers in the college game. He is able to establish low post position with ease has great hands able to pass off double teams and has decent foot speed for a man his size. He has a huge frame that can still hold more muscle. The basketball looks like a volleyball in his gigantic hands. Great feel for the game and can go over each shoulder in the paint.
As a player being constantly double teamed, he has a nice ability to dribble out and or find the open man. There are no quarrels about his position as he is a legit center at 6-11 with an approximate 7'5 wingspan. This makes him more difficult to stop. He played about 30 minutes a game at Duke and it really showed as he looked much faster than he did at high school.
He has a very soft touch around the basket with plenty of shot attempts and still holds a pristine 66.8% FG percentage. Okafor is not an explosive leaper but his increased conditioning has done wonders and it's also helping him in the transition game which can only be a plus.
Even though his condition is getting better he still has work to do and needs to stay consistent with his weight due to obvious reasons. He can still tone his body to maximize his athletic potential. Lacks great lateral quickness which will be exploited in the NBA. That is pretty much the knock on Okafor, his defensive deficiencies, and what might ultimately hold him back from being the number one pick. He also could be a better rebounder due to his massive size but that also seems to elude him at this stage.
His free throws are another deficiency as he just shots 51.1% Ft. This is major flaw with as many time he will be fouled and going to the line. Not being able to take advantage of that will hinder. Also his pick and roll defensive leaves much to be desired.
All in all Okafor might not be a franchise player but very good piece to championship puzzle. Pay per head and Bookmaking solutions have the top three choices at Minnesota Timberwolves 25% the Knicks at 19.9% and the 76ers at 15.6% for the top pick.